Snow and Ice Management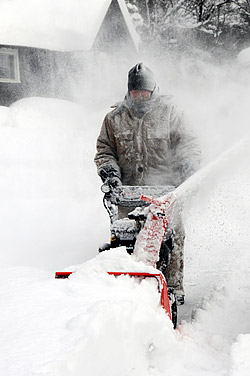 On an average, Rhode Island suffers from 25 to 30 inches of snowfall. It can go as thick as 60 inches in the north and northwest. This can be good for outdoor snow adventure, but definitely not for your regular driving. You add to this the possible damages that it can cause to your home and landscape.
However, you can do something to alleviate the risks and effects of snow to your properties. Hire professionals offering snow and ice management services. If you are in Newport and other metro areas, call All American Landscape & Masonry. We have the expertise and tools for fast snow and ice removal.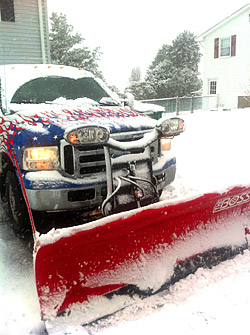 Snow Plowing
Snow can be removed in so many ways. Snow plowing is typically recommended for clearing large areas of thick snow. The process involves using of snow plow attached to our trucks and skid steers. With these tools and equipment, snow can be cleared as fast as possible. We also have trucks that can be used for snow disposal.
At All American Landscape & Masonry, we do the task carefully. We don't just remove snow from your driveways or walkways. Proper snow plowing methods are observed to ensure we don't damage your pavers and other elements in the landscape.
Snow plowing is more effective if combined with manual removal of snow in some areas. Our men use handy tools and devices to carefully remove snow or ice from plants, pavers, or lawns. We have salt spreaders and snow blowers just to name a few. We can also perform these tasks faster because we have enough men to do the snow removal.
Salting/Sanding
In most cases, salting and sanding are also done for snow and ice management. We perform salting and sanding to speed up the melting of snow in your property, particularly in the driveway.
We do this properly to ensure it will not cause further harm to your landscape, pets, and paved areas. Moreover, sanding is also performed immediately after salting. The sand prevents melting snow from forming ice again. This also helps for easier after-winter maintenance.
Eco-Friendly Salting
Salting for snow and ice management is great. There is no doubt about it. However, there is a better way of doing it--the eco-friendly salting method. We use just enough salt on the surface so you are assured that no further damage will be caused on your property.
We are also amenable to methods that won't require salt, if that's what you prefer. We can use organic and salt-free products. Just tell us in advance that you want this snow removal method.
Reliable Snow and Ice Management
Our team has all the experience it needs to offer a variety of snow and ice management options. As mentioned, we can provide fast and efficient service because we have enough and skilled manpower. Plus we've got all the state-of-the-art tools and equipment to provide you more diverse choices.
For more information, please feel free to contact us. Our service is available anytime of the day, any day of the week. Better yet, enroll in our snow and ice management program so you don't need to do any calling when snowstorms happen. We'll be at your property whenever you need snow clearing and ice management.