Masonry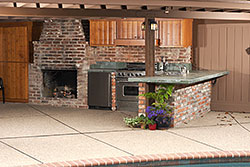 At All American Landscape & Masonry we have been providing our clients throughout Middletown, Portsmouth and Newport, RI with a wide range of Masonry services. Our services include both residential and commercial properties, no matter how large or small. So, if you are looking for a company that will custom design and install masonry for your outdoor living areas, then you have come to the right place!
With a team of very experienced masonry contractors; we have the expertise on hand to create some beautiful projects for you. Not only do we have some of the best masonry contractors on staff but we also have landscape designers that help you get the best out of your outdoor space. Let us help you turn your visions into a reality!
Masonry Applications
Some of the most popular masonry applications that are requested for outdoor living spaces nowadays include:
Patios
Outdoor kitchens
Outdoor fireplaces
Fire pits
Water features
Driveways
Walkways
Sidewalks
Retaining walls
Seating Walls
And so much more….
There is no doubt that homeowners are now placing much more importance on their outdoor areas. The reasons are many, but mainly it allows you to spend quality time outdoor without having to leave the home. You will find yourself relaxing or doing a lot more entertaining in your new or updated outdoor living area.
Masonry Materials
When we talk about 'Masonry' we are basically referring to the use of materials like natural stone, brick and concrete for the creation of outdoor elements. Such materials have been for centuries but it still takes a lot of skill to get it right. At All American Landscape & Masonry we want to ensure that your masonry install is not only beautiful to look at, but one that is also installed correctly and will last a lifetime.
Leave your next masonry project to our professional contractors and you will be guaranteed A1 craftsmanship. We not only have all the knowledge and experience, but we also have all the right tools to get the job done efficiently. Let us take all the hard work out of you next Masonry project; contact us today for a free consultation!